The SUCCEED FBT and a fresh fecal sample provide accurate, reliable data regarding pathological conditions of the equine GI tract. The veterinarian does the rest.
Conditions that affect a horse's gastrointestinal tract vary widely in their causes, pathologies, and treatments from foregut to hindgut – and often present with similar or overlapping symptoms. Using the SUCCEED Equine Fecal Blood Test to detect and differentiate between foregut and hindgut injury provides veterinary practitioners with an objective tool as they: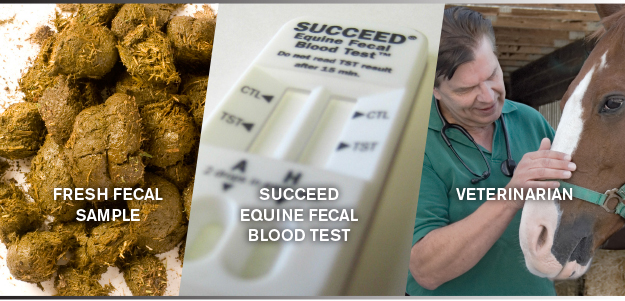 In minutes, the FBT detects occult equine albumin and hemoglobin in a fecal sample as an indication of injury in the foregut and hindgut, and helps differentiate between the two. That means faster, more accurate diagnoses, and more targeted treatments.
Learn more about the development of and testing behind the SUCCEED Equine Fecal Blood Test, a fecal antibody test to support the veterinarian's differential diagnosis of gastrointestinal disorders in horses. Provide us with a little information about yourself to access Download this free PDF.