When every stride counts and a fraction of a second can determine placings, giving your horses every advantage possible is essential to staying in the money. That's why a winning performance starts with a horse that is healthy from the inside out.

SUCCEED Equine Fecal Blood Test Helps Identify Foregut and Hindgut Issues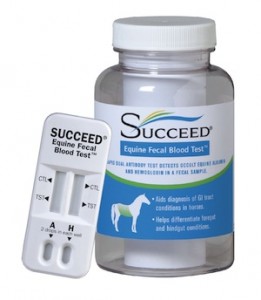 The SUCCEED Equine Fecal Blood Test allows your vet to conduct a simple test stall-side that provides objective insight into the entire equine gastrointestinal tract. When the FBT is used in conjunction with the horse's history and physical examination, your veterinarian can provide a more accurate diagnosis, which allows for a more accurate treatment. That means better, faster results to get your horses back on track. 
The FBT uses antibodies to detect two components of equine blood in the horse's feces – and can help distinguish whether it originated from injury in the foregut, hindgut, or both. Positive test results could indicate conditions such as:

Any of these issues can affect a horse's comfort, physical ability, attitude and performance as well as overall health.
Talk To Your Veterinarian About Testing With the SUCCEED FBT
Photo by Dennis Forgione, licensed via CC2.0.